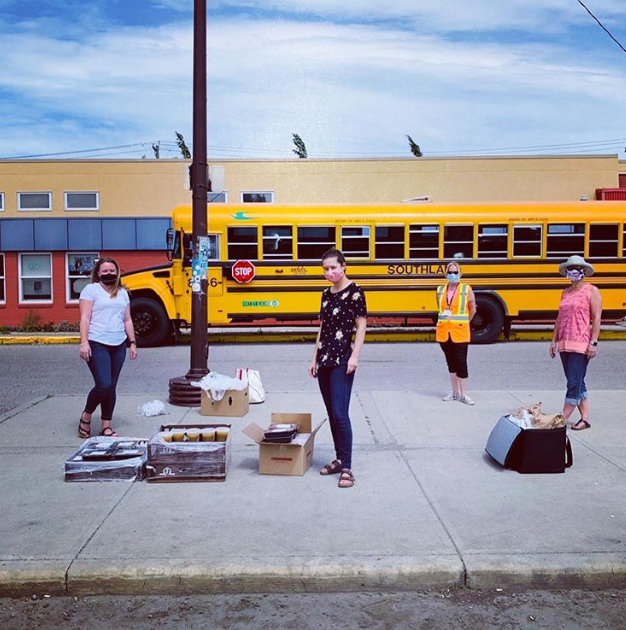 INTERVIEW WITH MEGAN AND TANYA – FOUNDERS OF THE BOWNESS FOOD NETWORK
While parents suddenly found themselves trying to manage having kids at home and working in the same space, two teachers – Megan Dobchuk-Land and Tanya Bonham – from the Bowcroft school in Bowness had other things on their mind. Watch the video to learn about how they created the 'Bowness Food Network'.
In early June, Devour had the privilege of joining many other people in what we have come to call 'The Lunch Bunch'. This group was filled with dedicated people from many walks of life with one thing in common: wanting to provide daily lunches to kids unable to access them through schools due to the pandemic.
There were many moving parts that all came together and produced and distributed over 21, 000 lunches throughout the city. Devour was only a small link a big chain. We wanted to be sure to capture the ideas and people behind this amazing initiative. The transcript of the video is below.
Many thanks to Dana Goldstein of Digital Shoebox for the video.
Bowness Food Network
On Sunday, March 15, 2020, the Calgary Board of Education announced schools would be closed effective Monday, March 16 due to the coronavirus pandemic. While parents suddenly found themselves trying to manage having kids at home and working in the same space, two teachers – Megan Dobchuk-Land and Tanya Bonham –  from the Bowcroft school in Bowness had other things on their mind. With a significant number of their school population relying on the lunches they were handing out daily, it was crucial to find a way to fill the gap left by school closures. The women were quick to react. Within days, they were handing out lunches they prepared themselves.
See a Need, Fill a Need
Tanya: I think it was New Brunswick who had started with closing schools first, I think on a Friday. And then schools were canceled on this Sunday here. And I panicked.
I said, "Oh my gosh, 150 kids are coming to breakfast tomorrow, what are we going to do?" Those kids rely on breakfast and lunch every day across school.
I have a bunch of girlfriends, a gang of 12 of us who do some things for the kids at my school, here and there over the years. So a couple of them reached out to me too, and said, "Hey, what about your kids?"
I had to find a way to feed these kids.
I saw Brokin' Yolk  restaurant shared a post that they were feeding kids. So I contacted Gil and asked if he could help us with some lunches for Bowcroft. He said definitely, and for nine weeks he provided food and he did it out of his own pocket. So that's where it started. And that's how it began.
Megan: Bowcroft is a very unique school. Most of our families rely on kids eating breakfast and lunch at the school each day. When schools closed, it was like an automatic panic for many teachers there. Thoughts of where they were going to get food was really predominant on our minds. Many people were thinking about learning needs, but we know firsthand from being with that population, that food needs have to be met before learning needs can be met.
Hello Neighbour
Megan: We also managed to connect with Julie Van Rosendaal (click to watch her interview) who, being the foodie that she is around the city, just had her hands on the pulse of what was going on in restaurant kitchens who were finding themselves in the position where they needed to liquidate all the fresh produce in their fridges or dairy things that were going to go bad. She connected us to chefs who handed us flats of berries and jugs of milk and spinach. Very quickly it went from just bag lunches for our students to families coming to us with their neighbors saying, Can they access this too? It was not just with groceries, it was food. It was just really shocking, but also really motivating to keep it going and make sure that this daily food access was possible.
Tanya: When we started, we were in the parking lot of the school. The need was growing and it was increasing from just our families. The word was spreading that we were giving away food. So we needed to change the location. So we went to the Boys and Girls Club in Bowness, and then it grew to a community event and we have over 200 people getting bag lunches. So that's the issue. Here we are, school is starting, how are we going to feed the kids? But also how are we going to feed the community?
We tapped into the Bowness Community Association which connected us to other local groups that were already talking about food and security in the community.
Tanya:  The need is not going away. The most important thing for us is free, easy access and daily food. We're hitting all those marks in Bowness. And if you take one of those away, if it's not easy access, they're not going to get it. And if you take away daily, they're not going to have food daily. It has to be easy. They can't take the bus to the food bank. They don't have cars to take to the bus to get to the food bank.
Summer Supplies
Tanya: Megan and I wanted this to continue over the summer because we're worried about our kids in the summer. So we decided to create a GoFundMe to fund it for the summertime.
Megan: That was the launch of the official title, the Bowness Food Network because we really needed to put it out there under some kind of cohesive name. Through Julie, we connected with J'Val at Devour. The funding allowed J'Val to bring some of her staff back. This was really key. It was funds from our GoFundMe that paid for our food production. Julie had acquired a grant which paid for the labor to make the lunches. And then another organization came in to pay for the food costs of other lunches.
Community Connection
Tanya: Right away we had a lot of keen parents, our Bowcroft parents volunteering. We put out a call on social media asking for help. The amount of people volunteering is absolutely over the top amazing. These people don't have a connection to our school or even maybe a connection to Bowness. There's people from far and wide helping out feeding kids.
Megan: We had a high school student (Maisie Mattatall) who sold this beautiful piece of art that she had done that her mom shared on Twitter that went viral. She turned it into cards. She sold them and she bought 750 granola bars for lunches. My hairdresser heard about this and she decided that her and her friend were going to stock a week of juice boxes for lunches. Together they pooled their funds and bought juice boxes for weekend lunches.
Tanya: I asked on social media if anyone wants to write sweet messages on little cards to put into the lunches and make someone's day. I collected 5000 little sweet messages and Devour took the time with their staff to insert 5000 notes into the lunches. They didn't have to do that. That's extra work but J'Val thought it was important to make the kids smile.
Impact of an Empty Stomach
Megan: We all need to be in a space of availability to engage with our day. And when you don't  have a basic need met when you arrive at school with an empty belly, that is a physiological need that needs to be met. Kids that come to school with empty bellies are not able to focus, they're not able to attend, they're not able to engage. They're dysregulated because they're hungry. It is absolutely key that kids are fed.
Tanya: We have seen huge improvements in behavior and academic grades, attentiveness, cooperation, friendships, you name it. Everything is improved in Bowcroft since we have been attending to breakfast and lunches.
Future Plans
Megan: Tanya and I are both impassioned by the impact this has had. The immediacy for both of us is on feeding Bowcroft kids, but it is also very inspiring to see the amount of support that was activated for this work. Ideally, it would be amazing to see a model that leverages relief funds through community kitchens for food for kids. We're in limbo. We don't quite know what's going to happen. We've been trying to educate the people that have been coming in accessing food on what else is available in the community.
One of the questions here is, if we were to raise funds, if we were to secure a spot for lunches, would our board allow this food into schools, given the COVID restrictions? And if we were to just raise funds and have it not channeled in an official way, but have it come to Bowcroft uniquely to purchase food, how would that be received?
The idea of National School Lunch programs, the idea of like lunch programs in general, I think that those kinds of conversations should be happening in the media right now.
Plan An Event