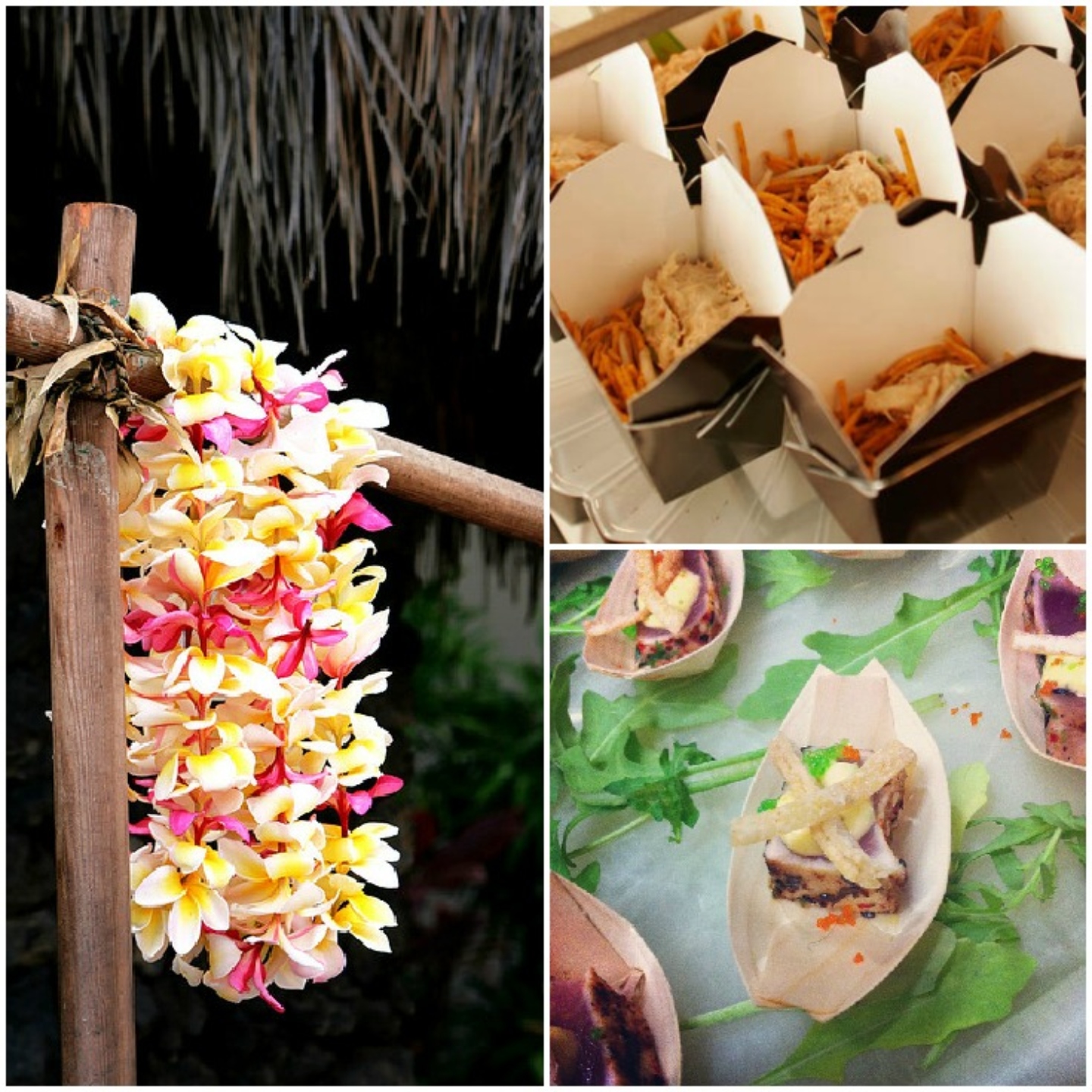 At the end of July we catered a fabulous Hawaiian themed cocktail party for a client's birthday. We had so much fun creating the menu. Many people think that the best way to 'theme' a party is to throw a few theme appropriate decorations around and maybe some music. Not us, we go all out.
Hawaii is a favourite place for all of us here at Devour – it is one of the few places that all the full-time staff have been to.
Spam on a Devour menu? You bet. Spam musubi. Poke? Most definitely. Ahi tuna poke is like a tuna tartare or carpaccio. And, of course, there has to be some pineapple!
The Hawaiian themed celebration was a cocktail dinner party for forty guests at the client's home. This format of cocktail party is one of our favourites. We served a dinner portion of food in a cocktail party format so guests could mingle with each other while hula dancing and sing along to Elvis' Blue Hawaii.
Devour caters unforgettable theme parties that go all out.
Kahlua pork sliders with island slaw
Teriyaki beef skewers (gf)
Coconut prawns with citrus chili (gf)
Hawaiian meatballs with pineapple (gf)
Ahi tuna poke with tobiko (gf)
Macadamia encrusted Gouda grape (gf)
Tiki tiki chicken served on endive (gf)
Spam Musabi
Salmon tartare on taro root chip with poached pineapple & crispy capers (gf)
Market vegetable platter with edamame hummus (gf, v)
Fresh crab and glass noodle salad served in a half pint take-out box (gf)
Salad rolls with shrimp & smoked tofu (gf)
Individual pineapple upside down cakes with toasted coconut ice cream
Island fruit platter with dragon fruit, mango, and papaya (gf)
'Monkey's Lunch' feature cocktail
Green tea lychee lemonade (delicious with gin or vodka I may add…)
Theme Parties Are The Best!
Can't you hear the ukulele strumming and the waves crashing in the background as you picture yourself surrounded by glowing tiki torches? It was a fabulous summer evening and fun was had by all. If you have a theme in mind give us a call and we can get our creative juices flowing and create a menu for you.
If you don't have a theme in mind but you want one – we can help with that too! As Jasmin Ohlhoff, Devour's fabulous event coordinator says – 'I live for theme parties!'. Aloha…
Plan An Event