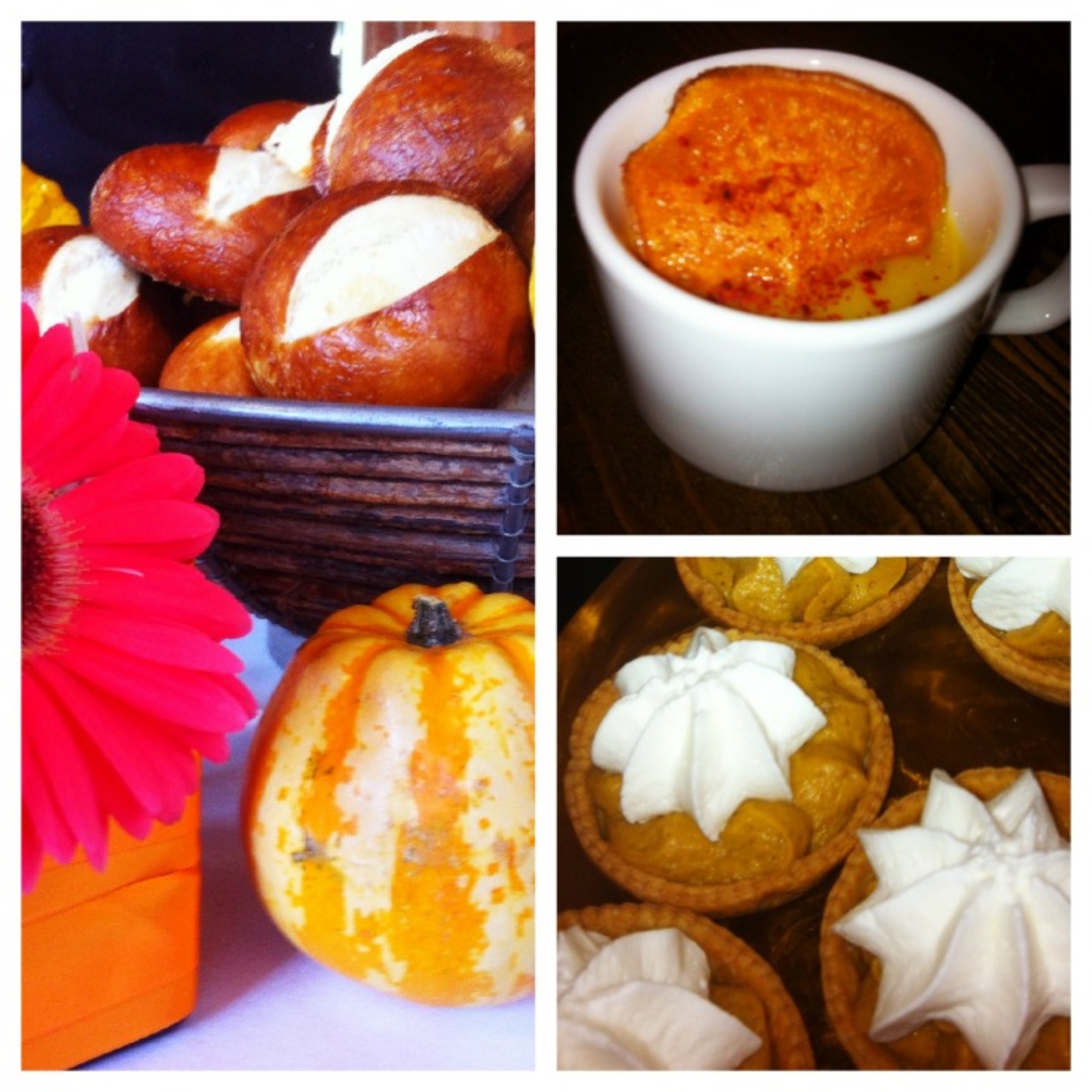 There are so many reasons to love October. Really there are. The best reason though has got to be Thanksgiving.
Thanksgiving is my favourite holiday of the year. It has not been commercialized and remains a sort of low-key but family and friend-centred celebration. It's about expressing thanks and sharing a meal to mark the occasion. These are both things that we could use more of in our lives.
And while these are the markers of Thanksgiving weekend, they are also the key ingredients to a meaningful and enjoyable celebration at any time of year; gratitude, generosity, good food, friends and family.  When these elements combine you get yourself one magical and memorable party.
The theme of being thankful can also extend beyond friends and family to include clients and colleagues. We have had the privilege to be part of an annual corporate party with Freshwater Creative who always host their client appreciation party right before the Thanksgiving weekend. The theme is always about giving thanks and the party was actually called 'Thankful' this year.
The invitations were these wonderful postcards that looked like a blackboard and on it were handwritten notes by each employee saying what they were thankful for. Simple, striking, and absolutely lovely! We think that an invitation is to a party what a trailer is to a movie… and these invites definitely hit the mark.
We created a menu that encapsulated the best of the Fall season and presented a twist on a Thanksgiving dinner turned into a cocktail party. All the tastes you associate with Thanksgiving were there; stuffing, turkey, yams, green beans, and pumpkin. Comforting and warm foods like turkey stew and cheddar biscuits were complemented by fun little treats like baby spinach dips in hollowed out two-bite brioche buns… Darn it! I wish I had a photo of those – they were adorable and scrumptious.
Here is the complete menu…
A Menu To Be 'Thankful' For!
Sausage stuffing beignet
Bite sized turkey meatballs with cranberry sauce on a Chinese spoon (gf)
Green beans with crushed almonds and maple syrup in paper cone (gf, v)
Squash soup with yam chip in espresso cup (gf, v)
Smoked Applewood cheddar grape rolled in pecans (gf, v)
Mini spinach dips in baby brioche (v)
Farmhouse turkey stew served with fresh cheddar biscuits and butter
Root vegetable chips with pumpkin hummus (gf, v)
Black pepper and truffle oil popcorn (gf, vegan)
Fall bounty vegetable platter with shallot dip (gf, v)
Trio of local and imported cheese with fresh fruit platter (v)
Individual spiced pumpkin pies with vanilla bean whip cream
To continue both the theme of the party and the motif from the invitations, there were three large white pieces of paper hung gallery-style on a main wall in the office. Beside the sheets of paper was a jar of blue art markers (blue being the corporate colour of this company) and guests were encouraged to write their own words of thanks up on the pieces of paper.
These notes were lovely to read and gave guests something to talk about. But, more importantly, it gave each guest an opportunity to briefly reflect about what they were thankful for. A simple activity like this can be very easy to organize and can be the 'entertainment' at a party. And the pieces of paper will also serve as a memento after the party while strengthening the relationships between the clients and the company since they can learn more about everybody in such a simple way.
And so – there you have it. There truly is so much to be thankful for and so much to celebrate in this life. We are thankful for this because if there were no reasons to celebrate, then we would all be out of a job. Thanks for reading! And, please note, we are all trying to get better at taking event photographs around here so bear with us as we figure it out. We are determined to only use our own photos on this site.
Make sure to check out our new Fall and Winter menus and stay tuned for the next post and, while you are waiting don't forget to peruse our Facebook page and Pinterest page.
Plan an Event