Hosting your friends, family, or colleagues in your home is easy when Devour Catering looks after the details.
It was the week before Christmas and all through the house not a creature was stirring – except for the caterers that is. We are starting to fill up our calendar with some fantastic holiday parties. It looks like a wonderful season is about to unfold!
Many of our corporate and social clients often ask us if we have some good suggestions about venues where they can host their annual holiday celebration. Depending on the size of the group, there are many locations in Calgary that we suggest. But, if it is possible, the first place we suggest is a home.
If there is a home that is large enough to accommodate the group we love to suggest this as the venue for many reasons; the atmosphere will be more relaxed for your guests because it will truly be just your group and you will have the opportunity to move around and talk with everyone instead of being at a table and only able to talk with the people on either side of you.
Some people often think their house isn't large enough to host a group but you would be surprised at how easy it is to fit in tables or chairs. And if you would rather not do that there are so many delicious 'fork-friendly' dinners you can eat standing up or sitting on a couch.
Here are three simple suggestions for how you can host a fantastic party in your home.
1. Pick a menu that will suit the number of guests and the size of your home
The party in the photos above was a buffet dinner for thirty four guests. We were able to use the clients lovely dining room table for ten guests and move furniture in the adjoining living room to set three tables of eight. The buffet table was set up in the foyer.
The guests enjoyed having their own seat and place cards were set out before guests arrived. Each place setting included a Christmas cracker which was a fun way for each table to start the meal.
If you have a larger group, or not enough space for everyone to have a seat at a table, then a cocktail dinner party is a lovely way to serve a dinner portion of food to your guests but still allow guests to move around and socialize with each other all evening.
The photos below are from a cocktail dinner party that was held at a client's home for sixty guests. There were stationary platters set up in three different areas of the home; kitchen island, kitchen table, and the dining room table. There were also warm items in chafing dishes set on the dining table. All items were fork-friendly and able to be eaten throughout the evening allowing for guests to nibble all night and for late arrivals to have plenty of food waiting for them.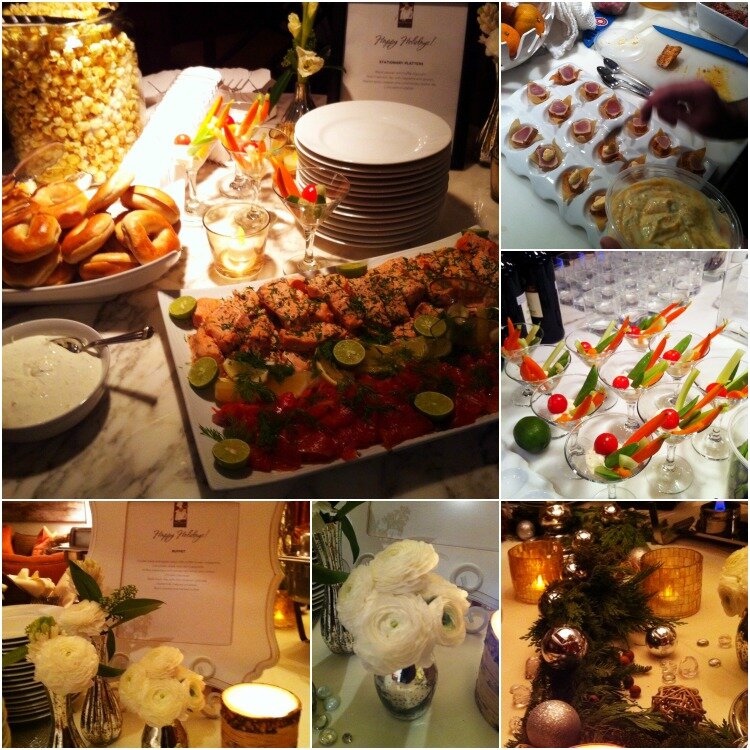 2. Hire a full-service caterer that can look after all of the set up, service, and clean up so you can focus on your guests
This point may seem obvious….you are reading a catering blog after all….but we can't stress enough how important it is to partner with a catering company that does more than just bring the food.
If you aren't sure about how many people you can accommodate in your home, we can come and visit you and take measurements for tables and discuss the best placement for a bar or food table. A site visit also gives us the opportunity to discuss possible decor ideas and colours that we can incorporate into the linens, flowers, and serving ware to really tie everything together.
Make sure that each element of the evening has been discussed with your caterer. Do you think all your guests will arrive at once or trickle in and out throughout the evening? Would you like us to set up a coat/boot check area away from the front door? Are there are any food allergies or sensitivities we should be aware of when creating the menu? There is no detail too small for us to consider and look after for you. And, speaking of details…..
3. Choose one or two special details to focus on so your guests will feel looked after
We recommend choosing one or two special touches for each party to really make your guests feel welcome and cared for. Here are some simple ideas;
Lovely flower arrangements or centrepieces that can be given away as gifts at the end of the party.
A welcoming cocktail is always a nice touch. A client favourite this year is a green apple martini.
Christmas crackers or small personalized gifts at each table setting. These don't have to be expensive – in fact the simple ones are often the best.
A game or activity that can involve the whole group. Christmas carol karaoke anyone?
A party favour for guests to take home with them. Again – these don't have to be elaborate or expensive. It is the thought that counts and your guests will fondly remember your party as they enjoy the treat.
But the most important thing to focus on is your guests. Genuine and generous hospitality is what creates an enjoyable evening for everyone. And what better place to demonstrate your hospitality than in the comforts of your home?
Happy Holidays everyone and many happy returns! Don't forget to check out our Facebook and Pinterest pages!
Order Holiday Catering